Parking/Buses
San Diego Bay Fireworks Parking and Shuttles
Free Shuttle Service starts at 6 P.M.
Bring your friends and family down to San Diego Bay for the Big Bay Boom fireworks spectacular – but try not to bring your car.
To accommodate the large crowd expected on San Diego Bay this Fourth of July, the Port of San Diego has set up free parking lots with shuttle service to Harbor Island and Shelter Island. The parking lots will
open at 5:30 p.m., July 4.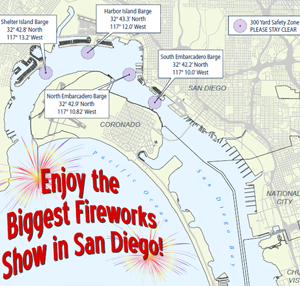 Free shuttle service to Shelter Island and Harbor Island for the fireworks show.
All shuttles will begin departing from designated parking lots at 6 p.m. and will run continuously until passengers have been taken to their respective destinations.
Shelter Island
Old Town Trolley Shuttle – From Shelter Island, shuttle pick up will be at the corner of Carleton Street and Rosecrans Street in Point Loma, adjacent to West Marine. Only street parking is available at this location. The shuttle will drop passengers off in front of the gazebo on Shelter Island. Old Town Trolley
Harbor Island
Five Star Tours Shuttle - For shuttle service to Harbor Island, park at the Port of San Diego Administration building, 3165 Pacific Highway, or the Port's employee
lot across the street on the southwest corner of Pacific Highway and Sassafras Street. Pick up will be near the entrance to the employee lot. Passengers will be dropped off at Harbor Island Park.  Five Star Tours
San Diego Bay
Parking along San Diego Bay fills up quickly and Shelter Island is usually full by 1 p.m. Last year, Shelter Island was closed to incoming traffic at 1 p.m. It is expected to close at about the same time this year. Harbor Island usually fills up by 5 p.m. Once all parking is taken there, the Harbor Police will close it.
Four fireworks barges will be placed strategically around Shelter Island, Harbor Island and the North and South Embarcaderos. Premium viewing will be available from all of the Port's parks around the northern and central San Diego Bay area. These include Shelter Island, Harbor Island, Spanish Landing, Embarcadero Marina Parks North and South, Cesar Chavez Park and Coronado Tidelands Park.
After the Show
There is one pick-up spot on both Islands. On Shelter Island, riders should meet the shuttle at the Shelter Island Gazebo. On Harbor Island, the pick-up point is across Harbor Island Drive adjacent to San Diego Harbor Police Headquarters.
The first shuttles will leave shortly after the fireworks show. Please be patient while waiting for additional shuttles as the wait time may be significant. The final shuttle run from the islands will be at 11 p.m.
Metropolitan Transit System
San Diego's trolley and bus lines are among the best in the country.   Web site
North County Transit District
The North County Transit District operates the Coaster train, which brings travelers from Oceanside, Carlsbad, Encinitas, Solana Beach, Sorrento Valley, and Old Town right to a few blocks from the Embarcadero. www.gonctd.com
Amtrak
The train station is only a few blocks from the Embarcadero. The Pacific Surfliner route goes up the California coast – they also offer routes covering the entire U.S. – and train travel is a breeze. www.amtrak.com