One of the Largest Fireworks Shows in the USA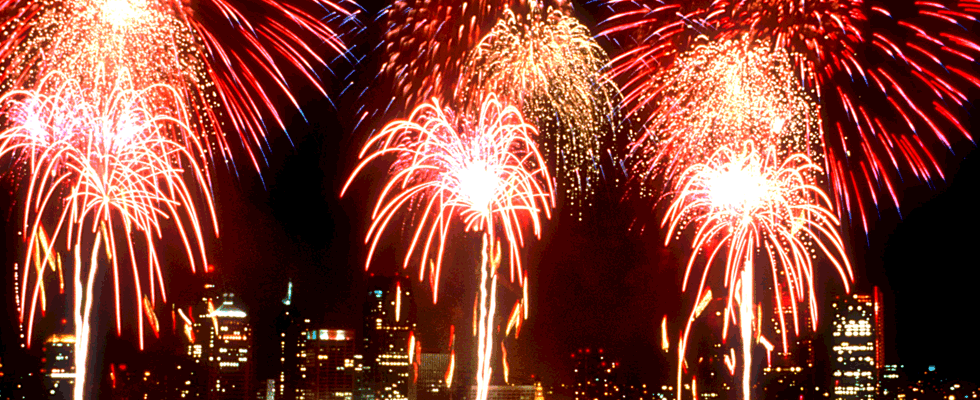 Over 500,000 people come to San Diego Bay to enjoy the celebration of the birth of our nation.
For the thirteenth year on Thursday, July 4th, 2013, San Diego's North Bay known as THE BIG BAY will light up with a spectacular fireworks display orchestrated to originally produced music selections.  Given the natural amphitheater from Point Loma to Shelter Island to Harbor Island to Liberty Station to Little Italy to the North Embarcadero to Seaport Village and the South Embarcadero to the Coronado Ferry Landing, the "show" will capture the attention of hundreds of thousands of people.  This is the largest annual event in the western United States with over 500,000 people viewing the show.
The "show' will consist of about 18 minutes of some of the most technically advanced fireworks produced by one of the best world wide operators of fireworks displays.  The fireworks artists will choreograph the 4 barge locations of pyrotechnics simultaneously to music broadcast "live" on THE WALRUS 105.7FM radio.
Location of the event will be on four barges strategically located around North San Diego Bay.  The Coast Guard, Harbor Police and special patrol vessels will assist in providing safety on the water along with the Harbor Police and the City of San Diego police will assist in traffic coordination and public safety on land.
The Port of San Diego's Big Bay July 4th Fireworks Show was established in 2001 to bring business to the Port Tenants and to benefit the San Diego Armed Services YMCA's family service programs for our military families including our wounded warriors at Balboa Naval Hospital.  San Diego has thousands of military personnel deployed and the families left behind often face specific challenges that the Armed Services YMCA helps them resolve.